Visual Science Fiction
Bruce Von Stiers
I had never heard of Collector's Press until real recently. The company was on a list of publisher's web sites that I was perusing. I checked out their web site and then decided to check out some of their books. One of their titles that I found fascinating was Science Fiction of the 20th Century: An Illustrated History. The book was written by Frank M. Robinson, one of the most respected science fiction writers still alive.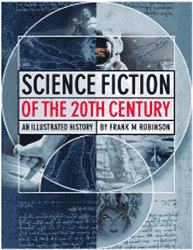 This book is one you might find on the shelf of your local library or on the coffee table of a rabid science fiction fan. It is hardcovered with a dust jacket and slick pages. These pages are in full color and total 256. There are 13 chapters in the book along with an Introduction and a two page Index.
Frank begins by telling us about his introduction to science fiction as a teenager. He qualifies the average sci-fi fan as part of a consumed lot of not too socially adept folks whose heads were in the stars. They read Edgar Rice Burroughs and put together fanzines.
The first chapter is The Future is Here.. It's 1901. Frank starts giving the history of science fiction writing. We find out that Cyrano de Bergerac was a real person, and a sci-fi writer too boot. We learn about Luis P. Senarens who wrote about a Steam Man in the late 1800's. The beginnings of magazines like Argosy and Science and Invention are discussed.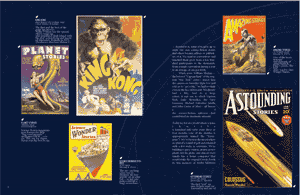 Next we move on to Isn't It Amazing? Here the writers that published in such magazines as Amazing Stories are explored. We find out that Frederik Pohl's first published work was a poem, written under a pen name. The history of publishing magnates like Ziff-Davis is discussed. I never knew that they had published sci-fi magazines. I've only known their computer related publications. The next chapter moves onto to publications like Thrilling Wonder Stories.
Some very famous names grace the pages of this book. Did you know that Roy Huggins wrote science fiction before becoming famous as a screenwriter and film/ television producer? And a story attributed to Mickey Spillane was supposedly ghosted by writer Howard Browne. Of course, later writers like Anne McCaffrey and Spider Robinson are given coverage in this book as well. Even newer writers Greg Bear and C. J. Cherryh are written about in the book. Did you know that Walter Tevis not only wrote The Hustler and The Color of Money, but also the sci-fi novel The Man Who Fell To Earth?
Although this book gives a lot of the history of science fiction writing, it is also for people who are collectors. Along with the text, the book has pictures of covers of science fiction books and magazines. You will find a picture of the cover of Other Worlds Science Stories magazine from 1951 in Chapter 7. See the cover of Captain Future Man of Tomorrow in Chapter 5, Stellar Companions and Dwarf Stars. Wherever possible, the date of the cover is listed, along with the artist who drew it. There is also a brief caption for each picture, describing the cover.

Science Fiction of the 20th Century : An Illustrated History is not for the casual fan of science fiction. This book is meant for the serious fan of the genre and for folks who are into collecting things. The writer's mentioned in the book are a who's who of modern fiction. A few authors may have been left out, but probably the most influential ones have been listed in the book. As I hadn't really known of the early history of science fiction writing, this was a unique and exciting opportunity for me to learn the roots of this ever emerging genre.
The list price of the book is $ 59.95 US. You see what I mean about this book being for the serious fan?
For more information about this book, visit the Collector's Press web site. It can be found at www.collectorspress.com.
---
© 2002 Bruce E. Von Stiers