Mystery Book Covers
Bruce Von Stiers
Max Allan Collins is the author of the Nate Heller detective novels. He also writes short stories. I have one of his collections called Murder - His and Hers that Collins wrote with his wife Barbara. He has also written a book for mystery collectors called The History of Mystery. It was published by Collectors Press and copyrighted in 2001.
The book has six chapters along with an Introduction and an Index. The book also comes with an Acknowledgement and Bibliography section. It is done up in full color and designed so that it could be classified as a coffee table book. There are a total of 196 pages in the book.
In the Introduction, Collins explains how the book is designed to "explore the beginnings of the genre that other histories have downplayed or overlooked." He admits that some authors were left out but the overall theme was constant.
The first chapter is Mysterious Beginnings. Here we find out about real life detective Francois Eugene Vidocq and how he chronicled his own exploits. We learn a lot about the Pinkertons and Edgar Allan Poe's mystery writings. The chapter covers some of the material that the dime novels were about. Characters like King Brady and Millionaire Dick Dobbs are explored. And we find out that Nick Carter started out as a detective, not as the secret agent some readers think he did. Tucked into the back of this chapter is a segment on Arthur Conan Doyle. The works of Doyle are chronicled as well as the various stage, radio and screen adaptations of his works.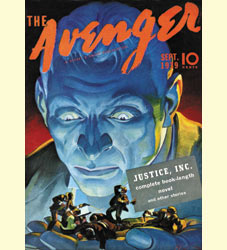 The second chapter is called Pulp Fiction. It is in this chapter that we learn about the various magazines that provided detective stories in the genre's history. Magazines like Argosy, Detective Story Magazine, The Shadow Magazine, True Detective and Weird Tales are looked at. We find out about masked detectives like the Grey Phantom and the Shadow.
Scattered throughout the book are listings of things like the "Ten Fun Radio Detective Shows" and "Twenty-Five Classic Private Eye Novels." This last list has old standbys like Raymond Chandler and Mickey Spillane but also has new kids on the block like Sara Paretsky and (one of my favorites) Robert Crais.
Also tucked into the second chapter are bios on Erle Stanley Gardner and Dashiell Hammett. We learn about Hammett's various outings in print and the Bertha Cool Donald Lam mysteries that Gardner wrote under the name of A.A. Fair. I've read a few of the A.A. Fair books and sometimes enjoyed them better than Gardner's Perry Mason novels.
The third chapter deals with detectives in comics. Cops like Dick Tracy are covered here, along with Kip Kirby and Charlie Chan. Comics based on television shows like Honey West and 77 Sunset Strip are also discussed in this chapter. And who could forget Batman . Tucked into the back of this chapter is a bio of Agatha Christie.
Chapter 4 is Dilettante Detectives. These are the descendants of the classic detectives of old. S.S. Van Dine is discussed along with priests like William X. Kienzle. Novels featuring boy and girl detectives are discussed and unforgettable characters like the Saint are covered. Some series that I read when I was younger, like the Toff and the Baron, are given the once over. Collins also talks briefly about Jim Qwilleran of The Cat Who.. series and the Fletch novels. Collin's take on the Fletch novels versus the Chevy Chase films is the same as mine. The books are great while the films were far less than stellar. And following with the theme of this book, a bio of Ellery Queen is tucked into the back of the chapter. There is also one on Raymond Chandler in this chapter.
The fifth chapter is Peepers. This chapter is all about private detectives. From Rex Stout's Nero Wolfe to Shell Scott, there are a whole bunch of private eyes listed in this chapter. A bio on Mickey Spillane can be found in this chapter.
What makes this book really great is the book covers that are printed in it. From Jesse James Nemesis to the cover of A Man Called Spade, the pictures are so vivid that it makes you wish that a copy of the book was available to read. There are also pictures of radio show promos and film posters. There are stills like the one that features a scene out of the Ellery Queen television show that has Jim Hutton looking over at suspect Bert Parks. All of the pictures are in color except for ones like the Ellery Queen still. Just about all of the pictures have a caption explaining something about them.
The sixth chapter is titled Further Suspects. Detective shows like Magnum PI and Charlie's Angels are discussed. The Moses Wine novels are covered along with my favorite period PI, Toby Peters. Sara Paretsky and Sue Grafton's books are listed, along with the hilariously funny Janet Evanovich.
The History of Mystery is a great book to have around if you are into detective stories and mysteries. As Collins pointed out, the book doesn't begin to cover every author of mystery and detective fiction. But it does provide a broad cross section of the genre. There were quite a few writers that I didn't know about. And I was very pleased to see some of my favorite ones listed in the book.
The list price for The History of Mystery is $ 45.
To check out more about this title, or other Collector Press books, visit their web site at www.collectorpress.com.
---
© 2002 Bruce E. Von Stiers