A Lupin Chronicle
Bruce Von Stiers
There is a Japanese cartoonist who goes by the professional name of Monkey Punch. He has a series called Lupin. This series character takes his lead from French novelist Maurice LeBlanc's rogue Arsene Lupin. The turn of the century thief and rogue has been modernized and place in a world of spies and high society hijinx. The folks at TokyoPop are releasing Lupin III Volume 1, which is a graphic novel containing Lupin tales.
The Introduction for Lupin III notes that the artistic style of Monkey Punch for this series is reminiscent of Sergio Aragones Mad Magazine spreads. After going through the book, I think that whoever wrote the Introduction was correct. Lupin III looks like it could have been plucked from the pages of Mad Magazine. Except that the tome of Alfred E. Newman would be as bold as the content of Lupin III.
The book has nine chapters and totals 191 pages. The pages all have several panels of the story. All of the pages are in black and white.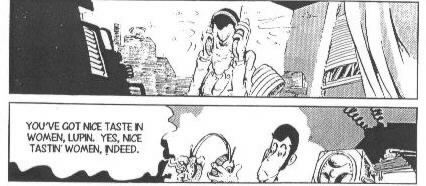 The first story is Art of the Entrance. Here Inspector Zenigata is at a residence searching for Lupin. He knows that Lupin is at the party at the mansion to steal something. Lupin is off seducing women in the mansion, looking for something in particular. But can Zenigata stop him in time?
The second story is The Great Escape. This is a story about Lupin being put in prison and trying to trick the jailers into believing that he isn't Lupin and that the ace criminal has escaped. But who is really telling the truth?
Mystery Woman is about the supposed heiress to a fortune that Lupin wants to get his hands one. The next chapter is called To Catch a Weasel and continues the storyline from the previous chapter. This one has Lupin trying to trap the son of the rich man in a murder scheme.
Other chapters include stories of assassins, spies and other less than stellar characters.
Lupin III is an irreverent look at the life of a cad, thief and master spy from the warped mind of a Japanese cartoonist. It has adventure, sex and in your face humor. Just the right elements for folks who like their graphic novels a little twisted.
Look for Lupin III Volume 1 at your favorite retailer soon.
For additional information, visit the TokyoPop web site at www.tokyopop.com
---
© 2002 Bruce E. Von Stiers
-