A Hotel Magnate
Bruce Von Stiers
In the world of computer gaming, there is a trend towards sim programs. Whether it is a football sim or one on people, there are a lot of them out there. One of the latest titles from JoWood Entertainment follows the same traditions as games like SimTower. This one is called Hotel Giant and lets you design and run a hotel. Get good enough at it, there may be a chain of hotels named after you.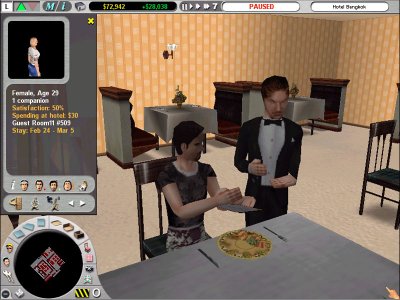 Some of the features of this sim are being able to having 19 different types of hotel structures to choose from. Once you decide what type of hotel to build, begin the hands-on work of designing the room layout and guest accommodations. Are you going to have a bar? Indoor or outdoor swimming pool, or both? What kind of exercise room will you have? How about a game room with video games and billiards?
One thing that this game has over ones like the Sims is that there are more detailed observations done from the perspective of the people in the game. You get to find out some specifics on why a guest is unhappy and how to make them feel better. A customer's satisfaction is a key element to playing this game successfully. Two things that you will really need to pay attention to are the customer complaints and customer needs. Comments by customers will hold clues for you to make needed changes in facilities or staffing. The bartender was rude and the swimming pool has scum in it? Not complaints that should be ignored.
You will get your paws into the thick of things by hiring employees, establishing credit lines for customers and putting together a customer service plan that will insure you prestige and wealth as a hotel magnate.
As the game progresses you will be able to view your guests through a series of camera angles. These views are isometric, perspective and top view. I like the perspective view the best, which allows you to see things at the level a guest would. The top down is easier to work with as you get to see things in a more condensed version.
You can add rooms or delete those Add items to a room with the click of a mouse button. Changes to the textures of the walls or floors are quickly done.
There are a whole bunch of things to do other than checking guests in and out. You might need to run an advertising campaign to bring more people to your hotel. You will need to keep up on the current trends by conducting market research. And of course, you will have to make sure there is adequate staffing and that they are well trained, efficient and the type of people your guests will like.
The graphics on the game are really good. There are vivid textures and the character movements are fairly smooth. The furniture is pretty well defined and some of the items even have intricate details that you can see if you get close to them.
The soundtrack could use a little polishing but isn't too bad. The music bits are a short and there is a lag between the end of one and the beginning of the next. I'm not sure if this was typical of the game or my CD-ROM drive is just a little tired. The sound effects aren't too plentiful but there are enough of them to get by.
If you are into sim programs, Hotel Giant is game that you should add to your collection. It can provide you with hours and hours of entertainment as you build your hotel empire. If you have ever had bad room service or had a room that cost over $ 100 and was the size of a closet, then you will enjoy playing this game. You will get to see what it really takes to build and run a hotel.
For more information about Hotel Giant, visit the JoWood Entertainment web site at www.jowood.com.
---
© 2002 Bruce E. Von Stiers