Onizuka In Trouble Again
Bruce Von Stiers
There is a popular manga series in Japan called Great Teacher Onizuka, or GTO for short. It is drawn by Tohru Fujisawa. This Older Teen (read 18+) series has sold over 37 million copies. Now the folks at TokyoPop have released Volume 7 of this series. It has been translated into English and will be on store shelves any day now.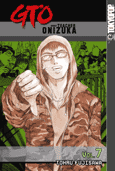 Eikichi Onizuka is 22 years old and a virgin. He is a tough guy, both foul mouthed and foul mannered. He has a unique goal for someone like him. Onizuka wants to be the Greatest High School teacher in the world. This goes hand in hand with his goal to score with as many nubile female students as possible.
The graphic novel has nine chapters in it, whose titles have the word Lesson in the title. I guess that means that this novel series is volume upon volume of life lessons from Onizuka. Each chapter has a silly subtitle like The Innocent Mermaid and What Wolf Girls Dream Of.
The Japanese really embraced this series, as there were both animated and live actions shows on Japanese television that were based on it.
As Volume 7 unfolds, we find out that Onizuka had been shot and was in the hospital. The media somehow gets wind of the whole thing and it becomes an event. The school board is trying to backpedal and get rid of Onizuka before there's much fallout. He has one strong benefactor, who thinks that Onizuka looks like Brad Pitt.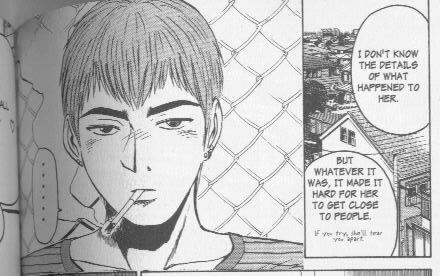 The students and other people around Onizuka aren't exactly stellar either. There are bullies, slutty girls, blackmailers and some other scummy folks that just might bring Onizuka down to their level and out the door of the school.
Onizuka does pretty well until he is bewitched by Urami, a student who comes back into the life of the school. She has something on her mind besides a fun time with Onizuka. Hanging out with her can be lethal. Panels in the book show her setting gas cylinders and dynamite sticks here and there. You get the idea that this is a seriously whacked and dangerous young lady. One mishap too many and Onizuka is back in the thick of trouble once again.
Great Teacher Onizuka Volume 7 is an interesting graphic novel. It isn't as vulgar as I thought it might be, but it definitely isn't for young teenagers. This is a title that is more suitable for the post high school crowd.
The drawing was well done and I found that I was able to understand the translation. I assume that means that the translators did a good job of conveying the material without much loss of content.
Onizuka may be a bad dude, but he really needs to work on his stud factor. He is more of a geek in that regard and probably needs some instruction on how to get the ladies. Looking up the skirts of unconscious girls doesn't quite do the trick.
GTO: Great Teacher Onizuka Volume 7 will be on store shelves soon.
For more information about GTO, visit the TokyoPop web site at www.tokyopop.com.
---
© 2002 Bruce E. Von Stiers